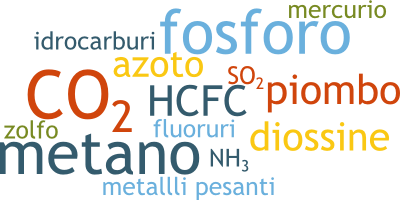 The methods used for the evaluation of environmental impacts consider different impact categories in order to describe the environmental performance of one or more processes.
Examples of impact categories
This phenomenon is caused by the increased concentration in the atmosphere of those gases able to absorb the infrared radiation emitted by the earth surface (greenhouse gases): the consequence is a rise in the average Earth's temperature.
Chlorine contained in chlorofluorocarbons gases (CFC) reacts with the stratospheric ozone molecules, dissociating them and releasing molecular oxygen (Cl° + O3 → ClO + O2). Ozone depletion is a serious problem since the ozone layer plays an important function as a filter for ultraviolet radiations, which can be harmful for the skin, can cause a partial inhibition of photosynthesis in plants and destroy phytoplankton.
This phenomenon is caused by the disproportionate growth of aquatic plant organisms due to the presence of too high quantities of nutrients in the ecosystem, such as nitrogen, phosphorus or sulfur. This results in an alteration of the ecosystem with multiple effects among which an excessive consumption of oxygen resulting in the death of different acquatic organisms such as fish.
It's the effect of a pH alteration in soil or in water due to a release of pollutants in the air, which  fall down with acid rain and dissolve into water and soil. Soils subject to acidification lose their nutrients, causing serious damages to flora and fauna.
This type of impact occurs in case of strong sunlight, when the ultraviolet radiation triggers photochemical reactions converting nitrogen oxides (NOx) and volatile organic compounds (VOC) into substances harmful to humans, animals and plants.
It's the impact generated by land use modification, from a natural environment, such as forests and ponds, to semi-natural (agriculture) or artificial (buildings, infrastructures) exploitation.
var addthis_config = {"data_track_clickback":true,"data_track_addressbar":false,"data_track_textcopy":true,"ui_atversion":"300"}; var addthis_product = 'wpp-3.5.9';