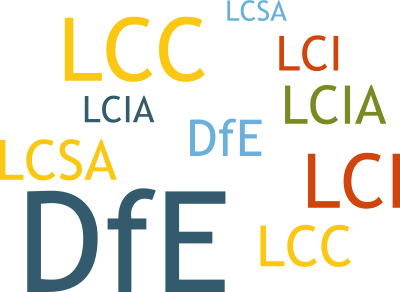 LCC
Life Cycle Cost is the aggregation of all costs related to a product life cycle: manufacturing, distribution, use and disposal; with the aim of optimizing costs both for the manufacturer and for the end-user.
LCSA
Life cycle sustainability assessment (LCSA) refers to the evaluation of all environmental, social and economic negative impacts and benefits in decision-making processes towards more sustainable products throughout their life cycle. (Source: UNEP)
LCI
Life Cycle Inventory is the analysis of all data included in the collection phase of an LCA study. It consists of a detailed tracking of all input and output flows related to each process of a product system, including all consumptions of resources and energy, and all emissions to air, water and land.
LCIA
Life CycleImpact Assessment is the assessment of the environmental performances of a product life cycle, that is its relevant environmental impacts, by means of different methodologies, such as IPCC (Intergovernmental Panel on Climate Change) for the evaluation of greenhouse gas emissions.
var addthis_config = {"data_track_clickback":true,"data_track_addressbar":false,"data_track_textcopy":true,"ui_atversion":"300"}; var addthis_product = 'wpp-3.5.9';