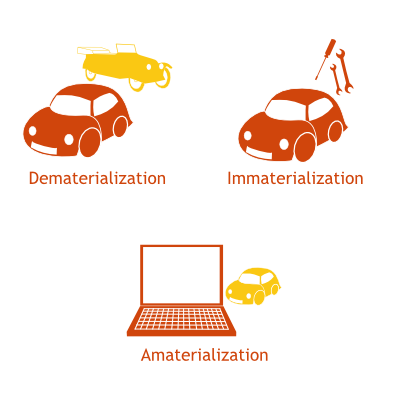 What do they mean?
Dematerialization is the reduction in the use of resources during the production phase. Immaterialization is the reduction of resources during the use phase, and often comes with lifestyle changes. In the most extreme form of immaterialization, a product is replaced by a service.
Some examples:
Dematerialization: nowadays, less raw materials and less energy are needed to manufacture a car than in the past.
Immaterialization: regular maintenance inspections allow a more efficient use of a car.
The use of a car can even become redundant when commuting is replaced by teleworking.
var addthis_config = {"data_track_clickback":true,"data_track_addressbar":false,"data_track_textcopy":true,"ui_atversion":"300"}; var addthis_product = 'wpp-3.5.9';